Wow! I can't believe we are home already? What a week! Our trip up to Buffalo felt like we were in an episode of Gilligan's Island! Our "3 hour tour" seemed like it would never end. Detours, pit stops, fuel….oh my! When boredom finally set in, I began to match our adults to a character from Gilligan's Island and then we sang the theme song together upon our arrival (our character match ups are our little secret ). We were all able to have a good laugh, and it was the running joke all week. After dinner and devotions, we were given our team assignments. My team was made up of John, Heaven (Simpson UMC), Mikenzie, and Angelina (Makena's best friend).
Everyone was up and ready to go Monday morning for breakfast and to find out what jobs we would be assigned to. Pastor Dee from Seneca United Methodist Church joined us for breakfast and told us about the families we would be helping this week. Shortly after morning chores were complete, we hit the ground running. Some went to their job site, while others went out for supplies. My team chose to work on some projects at Jamie's House. Jamie is Seneca's Director of After School Programs. She is extremely loved by their church and this was one way to thank her for giving so much of her time.
Team 2 (our team) scraped and painted Jamie's front porch, hung a new storm door and did a little yard work. We were all getting to know each other better on Monday as well. We learned that Mr. Wolter is full of interesting little facts. My personal favorite was that a "flat head screw driver" is actually called a "flat blade screwdriver". Who knew? 🤷🏼‍♀️ Also, he is extremely patient with young ladies (and old) who are learning the proper way to use the tools needed. We found out that Mikenzie and Angelina do NOT like wasps…neither do I, but shhhhhh, that's our little secret. 

A trip to the hardware store for wasp spray was required by day 2. They both jumped right in when it came time to hang the storm door. Power tools were involved. Obviously this was much more interesting than scraping paint. By the time the door was up, neither of them needed any instruction or help. They were telling us what needed done next and how to do it. Ahhhhhh, proud "dude mom and dude man" (Angelina's nicknames for us) moment.  Heaven loves to paint. She couldn't scrape paint fast enough. She was very quiet the first day and a half but not any more. She actually laughs at my corny jokes and stuff now. She has really come out of her shell and she takes extreme pride in her work. I've really enjoyed watching this transformation. It made my heart happy.
Heaven  found a "Reel Lawn Mower" at Jamie's on Tuesday and decided she really like using it. I never thought I'd see a child enjoy using a mower without a motor but she took it upon herself to try it and she just kept going. It was hot on Tuesday. I came around the corner and found Mikenzie and John in a water fight with the hose and of course I had to join in. I said " hey it's Niagara Falls"…..and that started the wheels turning about a trip to the American Falls for the "rookies". After dinner, 12 of us loaded up in the van and took off for the American Falls. I forgot just how beautiful they were. The kids were amazed and couldn't believe Canada was just across the water. We had a lot of laughs on our "adventure" home.

Wednesday looked like storms were headed our way. We needed to add the closer on Jamie's storm door so we got over there quickly and finished that. We didn't want her beautiful new door to blow away. We finished right around lunch, just before the rain came. Once we ate lunch, we joined Team 3 at The Baker's. The Baker's needed their front porch scraped and painted, the front of the house restained, and flooring laid in their daughter's bedroom. John, Mikenzie and Angelina started working on the flooring, and Heaven and I helped scrap the paint on their front porch. While we were scraping, Miss Lucy (age 9), came out and started chatting with me. We quickly became friends and I showed her how to scrap paint and off she went. When it was time to knock off for the day, Lucy wanted to keep going. We explained to her that she needed an adult there to keep scraping, so she offered to sweep up the paint chips after we left. As we were getting ready to load up, the family handed me a tray of cupcakes to take back to our group for dinner. I was blown away. Here we are helping this family in need and they are handing us a gift to say "Thank You". The tears started flowing. I was a mess. It hit me at that very moment why we do this. This family was beyond grateful for the work these kids were doing. It was something they were unable to do themselves, and they wanted to give something back.
Thursday was Rec Day!!!! 1/2 day of work and the rest of the day was spent at Fantasy Island. It was a small amusement park with a small waterpark but the kids had a blast. I, personally, enjoyed the hour or so that Tammy and I spent floating around the lazy river….even if it was an ice bucket when you first got in. It was nice to relax. We had dinner and ice cream there and were headed home by 8pm.
Friday was our last day! Believe it or not, I was really sad that our work was done. It was a HOT day though. We wanted to get done quickly so we could get back to the church and get ready for our dinner with the families. Iris, Heaven, and Mikenzie finished painting the railings and edges of the porch, and I painted the floor of the porch. John, Cyncere, and Angelina finished laying the flooring in Kristen's bedroom, and Grandpa Dave finished up loose odds and ends. I did get to make a stop at Rev. Mark's job site earlier in the day and see the work they were doing on Ms. Fanny's front porch. They did an AMAZING job rebuilding her 100 year old porch. I was also glad to see my Makena in action. We made it back to the church by 1:30, so the kids were able to rest some and get cleaned up for dinner. Tammy, Sydney and Henry worked hard in the kitchen all day preparing our dinner to share with the families from Seneca Street UMC. We had shredded bbq chicken sandwiches, sloppy joes. spaghetti salad, Tammy's DELICIOUS mac n cheese, salads, baked beans, and tons of desserts (provided by The Baker Family). What a amazing night of fellowship. It was an absolute honor to help these families and to get to know them. I will forever be grateful for the opportunity to be the hands and feet of GOD in Buffalo, and for the lesson Makena and I learned while there.
Thank you for all of your support and prayers from home. We greatly appreciate them. We had a safe, fun, and productive trip, but it's good to be home.
Also, I want to give a HUMONGOUS shout out to our kitchen crew who kept our tummies well fed last week. Tammy, Syd, and Henry, we can't thank you enough for all of your hard work this past week. Without your dedication, and patience, this trip would not have been as successful as it was. Thank you from the bottoms of our of our hearts!!!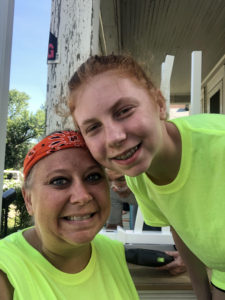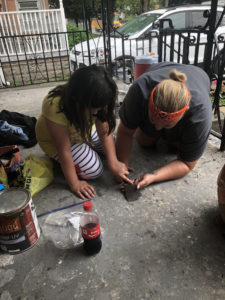 —Katie