Welcome
Welcome to the official website of North Olmsted United Methodist Church. We are a local church in the suburban setting of North Olmsted, Ohio. We foster spiritual growth through worship, prayer, and mission.  We are an inclusive congregation; all are welcome in our church.
Our buil
ding is fully handicap accessible.  All rooms are at the same grade level as our parking lot except the upstairs youth rooms.  All doors are wide, and we have handicap accessible restrooms.
Join Us in Worship
March 1, 2017 – Ash Wednesday – Matthew 6:19-23 – Come into the Light – This Ash Wednesday come into the light of Jesus as we enter the Season of Lent.  We will celebrate with the Imposition of Ashes and Holy Communion.  (Note: In the United Methodist Church all are welcome to partake of the sacraments.  You need not be a member of this church or any church.  All are welcome at the Lord's Table.)
March 5, 2017 – Matthew 4:1-11 – Jesus Goes on Retreat – Join us as we consider how the stories of the Temptation of Jesus constitute His wrestling with divine call.  Holy Communion will be served at this service.  (All are welcome to partake of the sacrament.)
March 12, 2017 – Matthew 17:1-9 – In the Dark ? – Nicodemus comes to Jesus in the dark.  Are we "in the dark?"  Come and hear the call to come into the light.  (Our chancel choir will sing and our bell choir will play at this service.)
Community Meal – March 30th
Join us on Th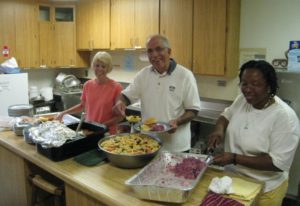 ursday, March 30th, 4:30 – 6:00 p.m. for our Free Community Meal.  Stay tuned for menu choices and details.  Please mark your calendar and plan to join us.
As always, there is no charge, and reservations are not necessary.
Supporting North Olmsted Food Pantry
We are currently collecting Canned Meat and Fish for the Oxcart Food Pantry. Support the food pantry by bringing a can of Meat or Fish to church or writing a check to NOUMC and putting "Food Pantry" in the Memo Line.
Support NOUMC through Amazon Smile
When you purchase items through Smile.Amazon.Com , a percentage of purchase price is donated back to North Olmsted United Methodist Church. Help your church by making your purchases through Smile.Amazon.Com .