Welcome
Welcome to the official website of North Olmsted United Methodist Church. We are a local church in the suburban setting of North Olmsted, Ohio. We foster spiritual growth through worship, prayer, and mission.  We are an inclusive congregation; all are welcome in our church.
Our buil
ding is fully handicap accessible.  All rooms are at the same grade level as our parking lot except the upstairs youth rooms.  All doors are wide, and we have handicap accessible restrooms.
Piano Recital/Dedication – June 25, 2017 – 4:00 p.m.
Join us as we welcome Javier Gonzalez in this special event as we dedicate our new Boston 118-S Sanctuary Piano.  Gonzalez began his music studies in Havana at age 7 and made his debut with the Cuban National Symphony Orchestra at 14. He has been acclaimed by audiences in Spain, Austria, Switzerland, Venezuela, Mexico, Colombia, Barbados, Jamaica, and the U.S., and he has collaborated as a soloist with orchestras including the Santa Monica Symphony Orchestra in California; the Simón Bolívar Orchestra in Caracas, Venezuela; various orchestras in Cuba; San Francisco Conservatory Orchestra; Cleveland Philharmonic Orchestra; and Cleveland State University Orchestra.
Gonzalez has earned awards in the Amadeo Roldan Piano Competition, Ernesto Lecuona International Competition, Ignacio Cervantes International Competition, Missouri Southern International Competition, and the San Francisco Conservatory Piano Concerto Competition. He has been part of important festivals and music events such as Music@Menlo, Verbier Festival, a concert in honor of UNESCO and former Director-General Federico Mayor Zaragoza, and a performance at the Organization of American States in Washington, D.C.  Gonzalez is currently on staff at Oberlin Conservatory of Music.
The program will include works by Robert Schumann, Alberto Ginastera, and Ernesto Lecuona.  Join us for this free and exciting event.
Join Us in Worship
June 18, 2017 – Matthew 9:35-10:14 – Called to Serve – This Sunday we will commission our Youth Work Mission Team and send them off for a week of service in Buffalo, New York.  Join us as we consider our call to service in the name of Christ.

June 25,2017 – Genesis 21:8-21 – A God for All People – This Sunday we will consider how God was faithful to Hagar and Ishmael in the dessert, even as God remained the God of the Hebrews through the lineage of Isaac.  (We will also welcome home our missionaries from Buffalo, New York.)
Community Meal – June 29th
Join us on Th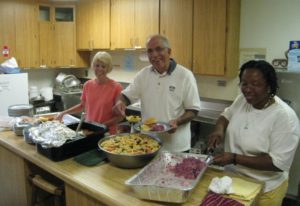 ursday, June 29th, 4:30 – 6:00 p.m. for our Free Community Meal.  Our friends from St. Clarence will be here and will be serving Sloppy Joes, Macaroni Salad, Beans Salad,  and their famous Cupcakes with Sprinkles.  Please join us! As always, there is no charge, and reservations are not necessary.
Supporting North Olmsted Food Pantry
We are currently collecting Canned Soup for the Oxcart Food Pantry. Support the food pantry by bringing a can or two of Soup to church or writing a check to NOUMC and putting "Food Pantry" in the Memo Line.
Support NOUMC through Amazon Smile
When you purchase items through Smile.Amazon.Com , a percentage of purchase price is donated back to North Olmsted United Methodist Church. Help your church by making your purchases through Smile.Amazon.Com .