Welcome
Welcome to the official website of North Olmsted United Methodist Church. We are a local church in the suburban setting of North Olmsted, Ohio. We foster spiritual growth through worship, prayer, and mission.  We are an inclusive congregation; all are welcome in our church.
Our buil
ding is fully handicap accessible.  All rooms are at the same grade level as our parking lot except the upstairs youth rooms.  All doors are wide, and we have handicap accessible restrooms.
New Church Directory – Sign Up Today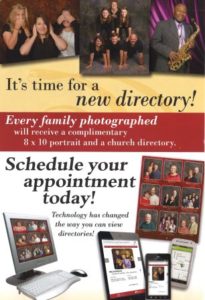 It's time for a new church directory.   We will be taking photographs on October 23 and 24 from 2:00 to 8:00 PM.   To schedule your appointment online, simply go to www.ucdir.com , click on schedule your photography Session on the right side, enter oh2050 in the Church Code and enter noumc in the Church Password.  (Note: Use all lower case.)  Online Scheduling is available Monday through Friday.
You can also schedule your appointment in person after church on 10/1, 10/8, or 10/15.  If you are not available on October 23 or 24, contact the church office to schedule an appointment at another church near here.
Join Us in Worship
October 22, 2017 – Stewards of the Church – Matthew 23:23 – Stewardship Sunday.  This Sunday we will discuss "Our Faithful Journey" and the role was are called to play as "stewards" of the church.  While we will receive "Estimate of Giving" cards, stewardship is about more than money.  Join us as together we explore the journey.
October 29, 2017 – 500 Years of Protestantism – Psalm 46 – Reformation Sunday.   This Sunday we will walk through the Reformation with Martin Luther, explore its influence on European History and the church, both the Catholic and Protestant Church.  Join us as we celebrate the 500 Anniversary of the Reformation.

Hurricane & Fire Relief
Many have asked about the United Methodist Relief Efforts for victims of disaster.  The simplest way to support these efforts is to write write a check to NOUMC and put UMCOR or Hurricane Relief on the memo line.  100% of the money given to UMCOR (The United Methodist Committee on Relief) goes directly to the relief efforts.  (UMCOR's Administrative Costs are paid through our church apportionments.)
Community Meal – October 26th
Join us on Th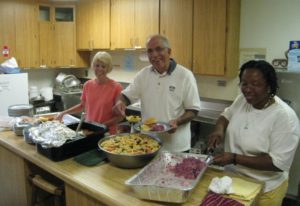 ursday, October 26th, 4:30 – 6:00 p.m. for our Free Community Meal. Our friends from St. Richard's will be here and will serve Sloppy Joes, Au Gratin Potatoes, Vegetables, Pickle Dessert and Beverages.   All are welcome!  As always, there is no charge, and reservations are not necessary.
Supporting North Olmsted Food Pantry
We are currently collecting   Canned Meat and Tuna Fish for the Oxcart Food Pantry. Support the food pantry by bringing a can or two of Fish or Meat to church or writing a check to NOUMC and putting "Food Pantry" in the Memo Line.
Support NOUMC through Amazon Smile
When you purchase items through Smile.Amazon.Com , a percentage of purchase price is donated back to North Olmsted United Methodist Church. Help your church by making your purchases through Smile.Amazon.Com .