Welcome
Welcome to the official website of North Olmsted United Methodist Church. We are a local church in the suburban setting of North Olmsted, Ohio. We foster spiritual growth through worship, prayer, and mission.  We are an inclusive congregation; all are welcome in our church.
Our buil
ding is fully handicap accessible.  All rooms are at the same grade level as our parking lot except the upstairs youth rooms.  All doors are wide, and we have handicap accessible restrooms.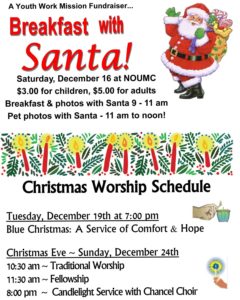 Join Us in Worship
December 17, 2017 (Third Sunday of Advent) The Call of Joseph – Matthew 1:18-21 Today is the third in our series on Christmas through the eyes of Joseph.  Joseph was call by God to raise God's Son.  To what are you called?  Come and explore the call.
December 24, 2017 – 10:30 AM (Fourth Sunday of Advent) The Journey of Joseph – Luke 2:1-7 On this Christmas Eve Morn, the Fourth Sunday of Advent, we'll think of the the journey of Joseph and Mary from Nazareth to Bethlehem, the struggles and the challenges as they arrived at the place of Jesus' birth.  Will you join us on the journey>
December 24, 2017 – 8:00 PM (Christmas Eve – Candlelight) – The Birth in the Stable – Luke 2:1-20 Join us this Christmas Eve as we take a new look and the meaning of a birth in a stable.  Join us for the lighting of candles, with bells and choir and we sing Silent Night and ring in Christmas with Joy to the World.
Hurricane & Fire Relief
Many have asked about the United Methodist Relief Efforts for victims of disaster.  The simplest way to support these efforts is to write write a check to NOUMC and put UMCOR or Hurricane Relief on the memo line.  100% of the money given to UMCOR (The United Methodist Committee on Relief) goes directly to the relief efforts.  (UMCOR's Administrative Costs are paid through our church apportionments.)
Community Meal – January 25th 
Join us for a special Free Community Meal on Th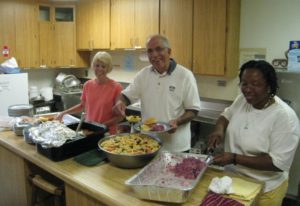 ursday, January 25th, 4:30 – 6:00 p.m.   All are welcome!  As always, there is no charge, and reservations are not necessary.  
Supporting North Olmsted Food Pantry
We are currently collecting   Canned Fruit, Juices, and Jellies for the Oxcart Food Pantry.  Support the food pantry by bringing a  Can of Fruit to church or writing a check to NOUMC and putting "Food Pantry" in the Memo Line.
Support NOUMC through Amazon Smile
When you purchase items through Smile.Amazon.Com , a percentage of purchase price is donated back to North Olmsted United Methodist Church. Help your church by making your purchases through Smile.Amazon.Com .